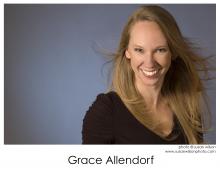 Grace Allendorf
6 Day Street
Norwood, MA 02062
United States
Soprano
Alto
Mezzo-Soprano
Flourishing mezzo-soprano Grace Allendorf is known for her "creamy timbre, evenness of color and coloratura agility". A consummate musician, she is dedicated to performing opera, oratorio, art song, musical theatre, and new music.
Grace made her debut with Opera 51 as a member of the chorus in their production of Faust this past June. She performed the role of Dew Fairy in Hansel and Gretel with Longwood Opera, and has shared the stage as a soloist with Masterworks Chorale, Concord Community Chorus, Coro Allegro, Andover Choral Society, Metropolitan Wind Symphony, Freisinger Chamber Orchestra, and Spectrum Singers. She was honored to premiere the role of Lilac Fairy in Sleeping Beauty by Francine Trester as a second year apprentice in the Nahant Music Festival in 2014. Other premieres include works by Charles Tarver, Josh Hummel, and Dominick DiOrio.
Grace holds the position of Associate Director of Community Performances and Partnerships at New England Conservatory, a community service based program designed to connect students with the community. Her role there has reinvigorated her passion for giving back to the community through music. She has performed solo recitals at a number of senior care facilities including Fuller Village, Needham Council on Aging, Chestnut Hill Benevolent Association, Café Emmanuel, and Hale House.
Grace currently serves as a section leader and soloist at First Parish in Milton and as a cantor at St. Richard's Parish in Danvers. She is also a member of Ensemble Lyrae, a Boston-based vocal chamber ensemble. She holds a Master's Degree in Vocal Performance from Longy School of Music and a Bachelor of Arts degree in Music with a minor in Theatre Arts from Brandeis University. She is a student of Jayne West.