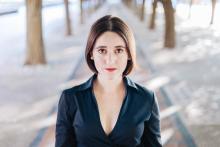 Ann-Marie Iacoviello
76 Bowman Street
Malden, MA 02148
United States
Praised as, "a brilliant singer and a delicious and sexy comic." -Rutland Herald, coloratura soprano Ann-Marie Iacoviello recently made an exciting last-minute debut as Eurydice in Orphée aux enfers with Opera Company of Middlebury. With four days notice, Iacoviello stepped into the leading role and performed the opening weekend of performances, receiving rave reviews from both audiences and critics.
During the height of the Covid-19 pandemic, Iacoviello explored new ways to create opera with the Cambridge Chamber Ensemble in Boston. She can be seen as the ingenue Marianne in a film of Wagner's rarely performed Forbidden Love (Das Liebesverbot). She also performed in their production of Holst's Sāvitri; the program combined Indian classical dance and opera for an intimate night of storytelling in a non-traditional space.
Finding opportunities to bring opera to life in non-traditional spaces is one of Iacoviello's artistic passions. She performed Mozart's infamous Queen of the Night in Miami's Temple Emanu-el with the Miami Music Festival where the South Florida Classical Review praised her for, "producing notes of brilliant intensity." She also took part in DC Public Opera's immersive, site-specific installation of The Turn of the Screw, performing as Flora.
Last summer, Iacoviello was an emerging artist at the Seagle Festival, the oldest vocal training program in the United States, performing as La Fèe in Massenet's Cendrillon.
Iacoviello has an affinity for new music and has performed contemporary works on both operatic and concert stages. During her graduate studies, she performed Selena in Tobias Picker's Dolores Clairborne and The Girl in Tom Cipullo's After Life with the Boston University Opera Institute. At the Seagle Festival, Ann-Marie worked on a portion of Zedler's The Falling and The Rising. She was a featured soprano soloist with the Boston contemporary music group AlEA III for their 2019 season. Her passion for pioneering new operatic works led to collaborations with composers Patrick Walker and Zaq Latino during opera scenes previews at Boston University.
Other notable operatic roles include Najade (Ariadne auf Naxos), Emmie (Albert Herring), and Johanna (Sweeney Todd). 
Concert credits include, soprano soloist in Ešenvalds' Passion and Resurrection with the Boston University Symphonic Chorus and Symphony Orchestra Strings and soprano soloist in the Bach Magnificat with the Ithaca Baroque Orchestra. 
Ann-Marie is an active private teacher in the Boston area with a piano/voice studio. Her students are of all ages and music abilities.