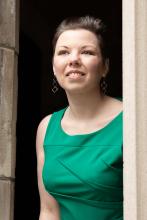 Teri Kowiak
26 Whitcomb street
Watertown, MA 02472-1209
United States
Alto
Mezzo-Soprano
Teacher/Coach
Artistic Director
A graduate of the Longy School of Music's Master's in Early Music Program, Teri Kowiak specializes in the historically-inspired performance of medieval, renaissance and baroque music while also performing a wide range of styles including classical, jazz, traditional Irish/Celtic, and premiering new compositions. Her repertoire spans from the chants of Hildegard von Bingen to Samuel Barber to James Bond Movie themes to newly-composed choral works. She greatly enjoys vocal improvisation in many styles and collaborative composition via improvisation.
She is a featured vocalist on the premier solo album "Redline" by bagpiper Michael McNutt (of Cu Dubh) and has performed with Cappella Clausura, the Seraphim Singers, Red Shift (Baton Rouge, LA), Lorelei, the Harvard Early Music Society, and the choir of the Church of Our Saviour in Brookline, MA.
She is the lead singer of the eclectic band Night's Blackbird, for whom she has written lyrics and melodies.
Outside of performing, Teri loves to help others make music. She runs a thriving private voice studio, gives workshops on performance practice, and provides choral coaching to local ensembles. She is also a librettist and writer of speculative fiction.