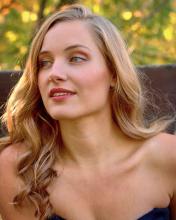 Aurora Martin
186 Boylston St #3
Jamaica Plain, MA 02130
United States
Boston-based performer Aurora Martin is quickly becoming recognized for her colorful and sparkling soprano. Aurora performs with many organizations in the Boston area. You can see her with Odyssey Opera, The Boston Modern Orchestra Project, Boston Youth Symphony Orchestra, Lowell Chamber Orchestra, The Arlington-Belmont Chorale, Opera del West, Opera on Tap Boston, the North End Music Performing Arts Center & Boston One City Choir, the Dante Alighieri Society of Cambridge and MassOpera.  Aurora is the soprano in residence at Christ Church Episcopal in Quincy, MA and has previously sung with St. Paul's Cathedral in Boston as well as St. Benedict's of East Somerville.  
Aurora was recently named a semi-finalist in the Partners for the Arts, Inc. 9th National Opera Competition. 
After pauses due to COVID-19, Aurora joined Opera Company of Middlebury in September 2021 as a Young Artist and cover of Agnès Sorel for their production of "The Maid of Orleans". In March of 2022, Aurora performed the lead role of Camilla in the New England premier of "Pepito" with Opera del West, a one-act opera by Nicolas Lell Benavides. December of 2020 Aurora performed and recorded two Bach Cantata's with the Lowell Chamber Orchestra.  In June of 2020 she debuted Opera del West's "The Zoompressario", a spin off of Mozart's "The Impressario" adapted by composer and librettist Dan Shore.
Notable operatic roles include Pamina in Die Zauberflöte, Micaëla in Carmen, Camilla in Pepito by Nicolas Lell Benavides, Noèmie in Cendrillon, Madame Silvertone in The Impressario La ciesca in Gianni Schicchi and Inez in Il Trovatore. Aurora's solo concert repertoire includes performances of Erik Satie's Socrates, Mahler's Das Knaben Wunderhorn, Beethoven's Mass in C Major, Saint-Saëns' Christmas Oratorio, and Fauré's Requiem.
Aurora has been an artist with a number of apprentice and training programs. Prior to her recent work with Opera Company of Middlebury, she has sung at The Shenandoah Bach Festival, Opera in the Ozarks, CoOperative, International Vocal Arts Institute, the Bel Canto Institute, University of Miami Summer in Salzburg, Astoria Music Festival, and the Wintergreen Summer Music Festival.
Migrating north from her native Virginia in 2013, she pursued and completed her master's in Vocal Performance at The New England Conservatory (NEC). At NEC Aurora performed Pamina in Die Zauberflöte, for which she received the Emerging Artist of the Year award from the W.I.S.E. Foundation.  She was also a Beneficent Society Scholarship recipient.
     Born and raised in Arlington, VA, Aurora received her Bachelor's degrees in Music and Chemistry from Virginia Tech. In 2011, she was selected as a Young Apprentice Artist with Opera Roanoke and made her professional debut as Inez in Il Trovatore that Fall, under the baton of former Artistic Director Scott Williamson. In addition to performances in opera and art song during her undergraduate degree, Aurora was the soloist of L2ork, a Linux Laptop Orchestra. With L2ork she sang at conferences across the US as well as Europe during a 3 week European tour.