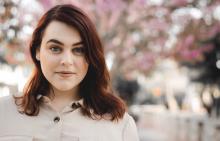 Sarah Rogers
Brighton, MA 02135
United States
Soprano
Teacher/Coach
Music Director
Artistic Director
Stage Director
Sarah Rogers is a Boston-based soprano, originally from South Florida. 
Last fall, she began her Masters of Music degree in Voice Performance at Boston University, studying with Penelope Bitzas. She has since been featured as a soloist for the Boston University Symphonic Chorus, participated in a masterclass with Warren Jones, and performed on various scenes programs.
Ms. Rogers holds a Bachelor of Music from Palm Beach Atlantic University, where she studied with Marilyn Mims. During her time at Palm Beach Atlantic University, she was featured as the soprano soloist for Mozart's Coronation Mass, Handel's Missa brevis Sancti Joannis de Deo (Little Organ Mass), and won the 2018 Concerto Competition, in which she performed the entirety of Mozart's Exsultate, jubilate with the PBA Symphony Orchestra.
​Her operatic credits include the role of "Rosalinda" in the PBA Opera Workshop performance of Die Fledermaus, and her work as a chorister for Palm Beach Opera's 2018-19 season. 
​She has also been an avid voice teacher for over six years. Her students range from young beginners to adults, all in various styles, such as classical, musical theater, and popular music.