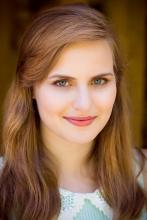 Kendra Comstock
785 Washington Street
Apt #3
Brookline, MA 02446
United States
Soprano, Kendra Comstock, is a Boston-based performer and teacher originally from Hartland, Vermont. Kendra performs a wide variety of Classical and Contemporary repertoire, but is especially passionate about singing Early Music. Kendra's recent engagements include The Play of Daniel with the Boston Camerata, Bella Italia (music of the Italian Renaissance) with the Concordia Consort, and Purcell's Music for St. Cecilia's Day with Ensemble 44. 
Kendra has been praised for her style and interpretation of Baroque cantatas and oratorios, including the works of Barbara Strozzi, J. S. Bach, G. F. Handel, and Élisabeth Jacquet de la Guerre. Kendra began her exploration into Early Music as a founding member of the Oklahoma City University Early Music Ensemble, directed by Kyle Patterson, from whom she also studied classical guitar. Kendra has performed at the Amherst, Madison, and Boston Early Music Festivals, as well as the International Baroque Institute at Longy. During these festivals, she studied with several Early Music specialists, including Pamela Dellal, Charles Weaver, and Paul O'Dette. In 2018, Kendra produced and performed her first solo recital series of Early Music throughout New England, benefiting Hartland Community Arts. 
Kendra holds a bachelor's degree from Oklahoma City University, where she studied voice under the tutelage of Dr. Kelly Holst. This Fall, Kendra began her Master's degree in Historical Performance at the Longy School of Music of Bard College, studying with renowned Early Music singer, Pamela Dellal. In addition to performing, Kendra also teaches voice, piano, and guitar at Music 101 Studios in Melrose, MA, and works in an administrative role with the Longwood Symphony Orchestra and Boston Musica Viva. Other musical explorations include playing classical guitar and accompanying herself on the lute.