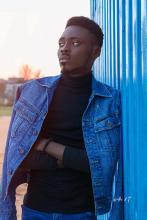 Ifeanyi Epum
Mr
6 Lorne Street
Apt. 2
Boston, MA 02124
United States
Countertenor Ifeanyi Epum is  noted for his warm voice, polished musicianship and versatility. Born in Lagos, Nigeria, He delved into classical music by chance; after he was mandated to join the church choir as part of requirements for confirmation. He regularly attended music workshop and had his first lesson from the church's choir master.
Owing to his passion for music, he was admitted to Delta state university, Abraka, Nigeria where he obtained a degree in music and was awarded gthe best undergraduate student in the faculty of arts.
As a soloist, he performed with the music society of Nigeria and Laz Ekwueme Chorale, exploring the works of Handel, Bach, Haydn, Mozart, Mendelssohn and works of Nigerian composers like Laz Ekwueme, Ayo Bankole, Sam Ojukwu, S.K Oretimehin. Ifeanyi has worked with renowned Nigerian composers like Laz Ekwueme, Emaka Nwokedi, Ayo Bankole(jnr) and German cellist and composer Michael Volhardt. He also won the first prize for the Kingsley Inupe Idegun Award for Countertenors.
Ifeanyi is currently pursuing a master's degree in voice and opera at Longy School of Music of Bard College.