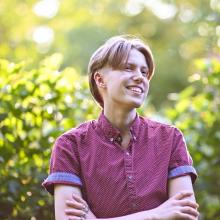 itskaysteele@gmail.com
Kay Steele is a Boston-based vocalist and arts administrator.  
Kay has been working in arts leadership since 2014 when they began as the Manager of Milton Community Concerts. Since then, they have worked in administrative roles with Opera Maine, Shelter Music Boston, Hillman Opera, Sarasota Opera, Syracuse Opera, and the Western New York Chamber Orchestra. They have worked on six professional productions as supertitles operator and on one as supertitles designer. In March of 2022, with the Fredonia School of Music, Kay will serve as Stage Director for a new opera titled "For Want of a Top" by composers Rob Deemer, Andrew Martin Smith, and Jamie Leigh Sampson.
As a vocalist, Kay most recently performed the role of Elisetta in "Il matrimonio segreto" with Hillman Opera. In 2020, they originated the principal role of Ari in the new opera "<o>respawn_object_infinite<\o>" with the Fredonia School of Music. In 2018, they performed the role of Second Spirit in "The Magic Flute" with Nahant Music Festival. Kay has performed in professional opera choruses with Opera Maine and White Snake Projects and has participated in training programs including the Metropolitan Opera High School Opera Singers Intensive and the Boston University Tanglewood Institute Young Artists Vocal Program. Kay was a 2017 Grand Prize Winner of the Fidelity Investments Young Artists Competition and, as such, performed an aria with the Boston Pops under the baton of Keith Lockhart. They are slated to sing the role of Second Spirit in the postponed production of "The Magic Flute" with the Buffalo Philharmonic Orchestra. 
Kay holds a Certificate in Career and Leadership from the Eastman School of Music. Beginning in September, they will be studying part-time at Boston University pursuing a Masters of Science in Arts Administration.
In May of 2022, Kay will receive degrees in Music Performance and Arts Administration from The State University of New York at Fredonia. At Fredonia, they served in prominent student leadership roles, including Chair of the School of Music Leadership Council, President of the Student Opera Theatre Association, and Soprano Section Leader of the Fredonia Chamber Choir.