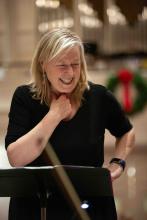 Maria vanKalken
Old North Church/Old North Festival Chorus
Minister of Music, Old North Church; Director, Old North Festival Chorus
8 Stacey Street
Marblehead, MA 01945
United States
Maria van Kalken, Minister of Music at Old North Church and Director of the Festival Chorus, celebrates her thirty-third (33rd) season in charge of Old North's flourishing music program. Responsible for all aspects of the music program at Old North—including the selection of music to enhance weekly and special services, playing organ and piano for all services, rehearsing with and directing the Senior Choir, managing the music staff and professional soloists, leading the Music and Festival Chorus Committees, overseeing the church's musical instruments, establishing the annual budget for the music program and raising funds for its ongoing activities, and more—Maria directs the 100+ member Festival Chorus & Orchestra in two holiday concerts each season, as well as an Annual Lenten Evensong concert, and the annual Messiah Sing!. The Messiah Sing!, established in December of 2017, raises funds and awareness for disaster relief throughout the world.
Maria earned the degree of Bachelor of Music in Organ Performance from the Oberlin Conservatory of Music (Oberlin, Ohio) and Master of Music from the New England Conservatory of Music (Boston, MA).  Her studies abroad have included pipe organ performance at the Sweelinck Conservatorium in Amsterdam, The Netherlands, under the patronage of the Rotary International Scholarship Fund, and the completion of an historical organ performance program in Pistoia, Italy. 
In addition to her work as Minister of Music, Maria is Artistic Director of Concerts at Old North, presenting between two and six chamber music concerts annually, in the acoustically-glorious Old North Church in Marblehead. Previous performances have included: Jacqueline Schwab, pianist; Calliope's Call; Kaleidoscope Chamber Ensemble; Raymond Gonzalez, acoustic guitar master, singer, song-writer, and composer; Skylark Vocal Ensemble; and RenMen, to name a few.
​
Maria is also a senior staff member of the Boston Early Music Festival (BEMF.org).  As Assistant to the Executive Director, Maria serves as liaison to musicians from all over the world for the Festival's biennial Baroque opera project, as well as the annual Chamber Opera Series, the Boston and New York Concert Series (at The Morgan Library & Museum), and opera touring and recording projects.  Currently, she is immersed in BEMF's annual Concert Series and Chamber Opera project – which will include in-person as well as virtual performances – as well as preparations for BEMF's next opera recording in Bremen, Germany.