Staff
Margaret Felice, Executive Director
Margaret Felice is a singer, conductor, educator and writer living in Boston. She has been a member of Boston Singers' Resource since BSR's founding and has been Administrative/Executive Director since 2015. From 2007-2009 Margaret was President of Boston Opera Collaborative, Boston's operatic repertory company. She later served as the Public Relations coordinator for that group, spearheading BOC's email marketing, local media relations and social media presence. She currently directs the Liturgical Musicians at Boston College High School, is an assistant director of the Liturgy Arts Group of Boston College, and is on the religious education faculty at Boston College High School
As a performer, Margaret's repertoire ranges from classical opera to modern musical theater, from early music to the Great American Songbook. She has sung principal roles in Suor Angelica, The Marriage of Figaro, The Magic Flute, The Crucible, Carmen, and Don Giovanni, as well as in theatrical productions of Titanic, Company, Fiorello! Annie, and The 25th Annual Putnam County Spelling Bee. She has a particular love of sacred music and has been soprano soloist in J.S. Bach's B Minor Mass, Messiah, Pergolesi's Stabat Mater, Vivaldi's Gloria, Faure's Requiem, and other choral masterworks. Margaret has sung with Tanglewood Festival Chorus since 2005.
The author of a popular spirituality blog, Margaret and her writing on music and spirituality have been featured on PrayTell and Loyola Press's dotMagis blog. She also has been published in GIA Quarterly, Pastoral Music, Classical Singer Magazine, Notre Dame Church Life Journal and Classical Music Indy. Her first book, the 2019 edition of Loyola Press's A Book of Grace-Filled Days devotional series, was published in fall 2018.
Margaret is a regular speaker on liturgical music and spirituality, participating as a keynote presenter at Notre Dame Vision's inaugural Summer Conference for Liturgical Music Ministers and at an Ignatian Identity Conference at Leopard's Hill School in Lusaka, Zambia. Margaret holds degrees from Boston College and The Boston Conservatory and also studied at Emerald City Opera Institute and the Songfest Professional Program. Originally from South Windsor, CT, she now lives in Dorchester with her husband, Robert Goulston. Her résumé, calendar and blog can be found at www.margaretfelice.com.
Stephanie Hollenberg, Auditions Coordinator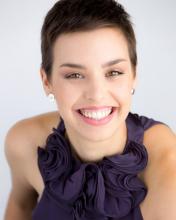 In recent seasons Stephanie Hollenberg has appeared as Leonora (The Beautiful Bridegroom, MetroWest Opera), the step-sister Marguelonne (Cendrillon, Cambridge Chamber Ensemble), Gretel (Hansel & Gretel, Music Academy International Trentino Festival, Italy), and covers the role of Zerlina (Don Giovanni, NEMPAC).  This spring she was also a finalist of the 2018 MetroWest Opera Vocal Competition.  Previously, Ms. Hollenberg has sung the role of Holly (Rapture, Boston Opera Collaborative), Papagena (Die Zauberflöte, MAI Trentino Festival), an Esprit (Cendrillon, MAI Trentino Festival), Tibrino (Orontea, Haymarket Summer Opera Course), Sandman (Hansel & Gretel, Longy School of Music), Eva (An Embarrassing Position, Longy), and Dido (Dido & Aeneas, Goshen College).  In addition to Ms. Hollenberg's singing engagements, she serves as Coordinator for Concerts and Outreach for Boston Opera Collaborative, organizing events surrounding main stage shows and coordinating the Concert Series; she also serves as the Auditions Coordinator for Boston Singers' Resource, organizing and scheduling the bi-annual auditions.
Sophie Urquhart, Communications Assistant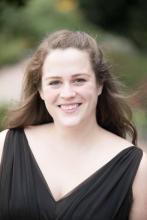 Soprano Sophie Urquhart is excited to join the BSR team as Communications Assistant. Sophie also works as Production Assistant and Development Associate for Boston Opera Collaborative, and previously she served on the board of Brown Opera Productions and interned for LoftOpera in Brooklyn, NY. A recent graduate of Brown University, Sophie plans to study vocal performance at the graduate level, while also pursuing her interest in arts administration. Sophie is a student of Dr. Rebecca Folsom.
Board of Directors
Jonathan Saxton, President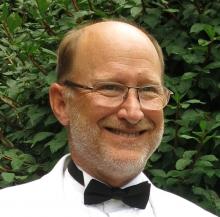 Jon Saxton is a bass-baritone in his 12th year with the Tanglewood Festival Chorus, who has also appeared in regional productions with the Vokes Theater, Westford Chorus, Concord Players, New World Chorale, and Opera51.
In addition to his work with Boston Singers' Resource, he serves as chair of the Wayland Cultural Council, Vice Chair of the board of Choral Arts New England, a perennial member of the Tanglewood Festival Chorus Committee, and on the Leadership Council of MassCreative. Jon has spent more than 30 years working in politics and public policy. He has written over 400 speeches and has authored or co-authored 22 articles, reports, and book chapters, primarily on health policy. He served ten years as the chair of his town Democratic Committee, was campaign manager for Massachusetts State Representative Tom Conroy's run for the United States Senate in 2011, and served as Chief of Staff in the office of Massachusetts State Auditor Suzanne Bump.
Jon is a graduate of Haverford College and earned a law degree with honor from the University of Maryland School of Law.
Stephanie Mann, Clerk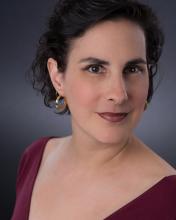 Soprano Stephanie Mann is a graduate of The Boston Conservatory with a Masters of Music in Voice and Opera Performance. She has sung numerous leading roles around and outside the Boston area, including performances with Mass Theatrica, Longwood Opera, Raylynmor Opera, Asheville Lyric Opera Company, Worcester Opera Works, Riverside Theater Works, Boston Opera Project, Boston Opera Collaborative, and The Company Theatre. Stephanie was one of the founders and directors of the Boston Opera Project, producing Marc Blitzstein's Regina and the New England premiere of Mark Adamo's Little Women in conjunction with Orchard House in Concord, Mass. She was on the Board of the New England Gilbert and Sullivan Society for six years, where she served as the Program Chair and Reviews Editor. She has previously served as the Director of Concerts and Events and the Historian and Alumni Coordinator with Boston Opera Collaborative. For more information see www.StephanieMannSoprano.com.
Keith Eric Brinkley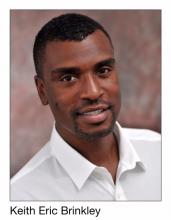 Baritone Keith Eric Brinkley is a multi-faceted performer with style credits in opera, classical, musical theater, gospel and religious music. He began his formative musical years in church, singing male soprano with the world-renowned Indianapolis Children's Choir.
Keith recently debuted in the role of the Grand Sacerdote with Boston Opera Collaborative's production of Idomeneo. He also made his television commercial feature debut as part of a 2017 Christmas Promotion for ESPN, the NBA and 20th Century Fox's The Greatest Showman. In 2016, Keith premiered the role of Marshall in Andy Gaus' musical Don't Know Nobody That Boogies Anymore, at the Arsenal Center for the Arts in Watertown, Mass. Keith has been a section leader at Old South Church and a soloist for the Paul Madore Choral and Boston Choral Ensemble.
Keith holds a Master of Music degree from Boston University, and a Graduate Performance Diploma from Longy School of Music at Bard College. Offstage, Keith spent several years in the non-profit healthcare management field at Massachusetts General Hospital and Steward Medical Group. A social change advocate and learning evolutionist, Keith is currently pursuing a grant writing certification to create funding initiatives for social change through the arts.
Vincent James

Vincent James, baritone/second tenor, has been singing in choirs since his freshman year at MIT when he sang with the MIT Glee Club and Choral Society under John Oliver. He currently sings with Masterworks Chorale and is on the Board for the New World Chorale. He has also sung with the Tanglewood Festival Chorus, Spectrum Singers, Harvard Radcliffe Chorus, Concord Chorus and the Wellesley Choral Society. He also sang with the Cincinnati May Festival Chorus and the Collegiate Chorale in New York City (recently renamed Master Voices). Vincent has also served on the board for Choral Arts New England.
Vincent is the Director of Admissions at the Harvard T.H. Chan School of Public Health. Prior to that, he was the Associate Director of Admissions at MIT, where he graduated with a degree in Chemical Engineering. Vincent also holds an MBA from Rutgers University in Newark NJ.
Erin Merceruio Nelson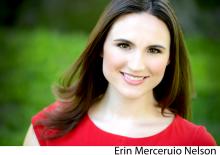 Hailed as "secure and sonorous" by the Boston Musical Intelligencer, soprano Erin Merceruio Nelson performs actively throughout New England and beyond. Her recent performances include Gretel in Longwood Opera's production of Hansel and Gretel and Frasquita in Oprea Breve's (NY) production of Carmen. Erin participated in Odyssey Opera of Boston's "Trial by Fire" season, performing in Norman Dello Joio's The Trial at Rouen (December 2017), and the Boston Youth Symphony Orchestra's production of Bizet's Carmen (January 2018).
Erin is the Director of Development and Operations for Shelter Music Boston, a local nonprofit that employs classical musicians to present chamber music concerts in area homeless shelters and recovery centers. She previously served as the Senior Program Administrator for the Free for All Concert Fund, and as Development Assistant at Hebrew SeniorLife. A native of Martinsburg, West Virginia, Erin holds an M.M. in Vocal Performance from The Boston Conservatory and a B.M. in Vocal Performance from Shenandoah University in Virginia. Visit Erin at http://www.erinmerceruionelson.com/.
Peter Pulsifer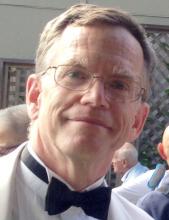 Peter Pulsifer began singing in his church choir as a boy soprano and first became serious about choral music when as a graduate student in physics in the 1980s he joined the Tanglewood Festival Chorus under John Oliver. After graduation he lived in Washington, D.C., for 16 years, where he sang with the Washington Chorus under Robert Shafer. Currently he sings regularly with the Tanglewood Festival Chorus and Chorus pro Musica, and when possible with the New World Chorale, Odyssey Opera, and others. He studied voice for many years with Robert Honeysucker. Peter is active in promoting culture and the arts, including service since 2003 on the board of Choral Arts New England, which gives grants, publishes an online directory, calendar, and newsletter, and works in other ways to support choral singing in the six New England states. He also serves on the Winchester Cultural Council and is a former Trustee of the Winchester Community Music School. Originally from Rochester, N.Y., Peter earned a B.A. from Swarthmore College and a Ph.D. from Boston College, both in Physics. Currently he does scientific and technical consulting in the Boston area. Previously, he has been a theoretical plasma physicist at the U.S. Naval Research Laboratory, has served as a scientific program manager, and has been a staff editor at the magazine Physics Today.
Lynn Shane, Founder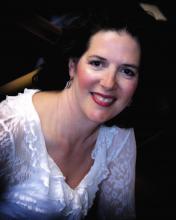 Lynn Shane is the founder and former Executive Director of Boston Singers' Resource. Under her direction, BSR became one of the leading resources for serious singers and students of singing in the New England region. Working with a team of dedicated volunteers and board members since 2001, Ms. Shane created and maintained the BSR website, organized 17 regional auditions for BSR singers and directors and written nearly 40 web article/interviews. Ms. Shane is an active member of the American Choral Director's Association, the Arts Services Coalition, the Music Educators National Association, the National Association of Teachers of Singing, Opera America, and Stagesource. She holds a Bachelor of Music Education degree from the Crane School of Music in Potsdam, NY, and a Master of Music degree from the University of Colorado. Also an active music teacher and chorus conductor, Lynn Shane has worked with all ages of students from Kindergarden through adult. She currently is on the faculty at Salem State University in Salem, MA where she teaches private voice lessons as well as Women's Chorale, History of Music, and Voice. As an active singer, Ms. Shane has appeared with several regional symphonic, music theater and opera companies as soloist. She is also a 15 year veteran of the Tanglewood Festival Chorus with whom she has recorded several CD's, toured the Far East and Europe.