Welcome to the member discounts page.   Here, you will find ongoing discounts as well as ticket deals for BSR members. To offer a discount, please contact us at  info@BostonSingersResource.org
---
From White Snake Projects, the Pulitzer Prize-winning creators of Madame White Snake, comes PermaDeath, A Video Game Opera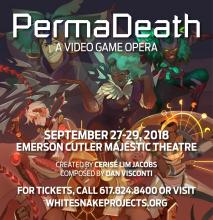 25% OFF ticket discount for Boston Singers Resource!
In support of local artists, White Snake Projects is offering members of BSR a 25% discount for tickets to PermaDeath. Visit whitesnakeprojects.org or call 617.824.8400 and use the code "BSR" to redeem your discount.*
Your avatar is "killed," but rises again to fight another day. But what if it never rises again? What if it dies permanently? Watch the gods of the 21st century, our digital avatars, battle it out in cyber space in an epic fight to the death. Who will be left standing?
PermaDeath is appropriate for ages 12 and up.
Thu, Sept 27 at 8pm Fri, Sept 28 at 8pm Sat, Sept 29 at 8pm Emerson Cutler Majestic Theatre, Boston
*Discount excludes ticket tiers A and D
---
ONGOING:

Classical Singer Magazine: Free 3-month trial web subscription or a 1-year print/web subscription for only $32/year (a 55% savings).

Opera News Magazine: BSR members can now access the LOWEST price available for a 1 year (12 issue) subscription for only $16/year; The same discount as is offered only to "Educators and Students" (a 78% savings).