Thu, Feb 6, 2020
social justice performance singing activism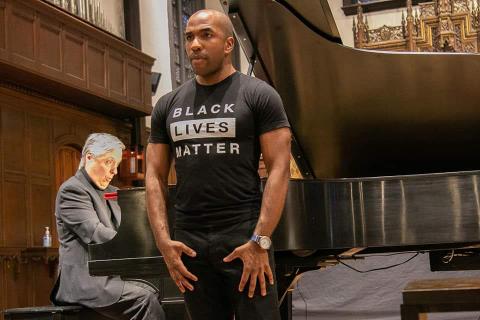 "An artist's job is to speak to the times." Nina Simone
Dear fellow singers,
As we see hatred and fear unleashed in our country and abroad, it is easy to feel hopeless, or angry, or even perhaps superior, but despite all the time we spend making our voices impossible to ignore, what's important is not only what stands we take, but also in what spirit we take action. It is clear to me, and to many of my colleagues, that artists must stand up and speak out against racism, sexism, homophobia, xenophobia, and any other bigotry, but why should we do that, and with what attitude?
Should we take political stands just because it's the right thing to do? Should we speak out on social issues just because we are used to finding ourselves outside of the mainstream, already? Should we lend our artistic persuasiveness to causes because it's fun to feel like we're right? All these reasons might be true to some extent, but a greater reason to get involved in the social issues of today (and risk losing future gigs over our views) is that our role as artists is to let humanity be heard. The visceral emotional response that our audiences have to our voices is on some level due to the fact that we use an instrument they all possess to express what they feel, but don't know how to project. Speaking up for those under attack can be seen as an extension of what we do every time we sing the thoughts of a character, or the narrator in a song.
The humility necessary to make ourselves vessels for great music can translate into the empathy necessary to stand up for the rights of all, if we have enough courage.
So then, if we decide to turn our voices to social justice causes, how do we do it? There are many paths to being an artist activist. Though she is perhaps most widely known for her activism work, Black Lives Matter co-founder Patrisse Cullors calls herself an artist first among her many titles on her website; Cullors holds an MFA from the University of Southern California, and she speaks to the causes she values with her performance art, which she posts on Instagram.
Nina Simone and Harry Belafonte used their music, their words and the profits from their recordings to support the civil rights movement of the 1960s, and Coretta Scott King herself studied voice at New England Conservatory. More recently, Stevie Wonder and Bruce Springsteen have written many songs on issues like racism and police brutality.
Speaking from my own personal experience, while I greatly admire those who devote their lives to activism, I take comfort in music being my primary mode of contributing to the causes I care about. If I perform my "Oh, Glory!" program, or another of my social justice-themed recitals, I can choose to add my own spoken context to what I sing, or I can let the pieces I choose convey the message for themselves: a song like "Strange Fruit" or Margaret Bonds' "Minstrel Man" speaks clearly on its own. This kind of 'artivism' is what comes most naturally to me, but it is my profound hope that you, my beautiful colleagues, will find what works for your particular styles.
Whatever you decide, I implore you to avoid letting the confidence we often model as performers turn into the idea that we know better than other civilians, just because we're louder.
We should speak out, not because we know better, but because it's our civic duty to look out for each other.
In my humble opinion, the one thing us resonant human beings cannot afford to do is look at the injustices of the world and keep our mouths shut.
---
James Dargan, baritone, is a creative artist and authenticity addict from the Southeastern US. He has played the violin and sung since he was a child. After a brief tenure as a university English professor, Dargan decided his path was music and subsequently studied and performed in the US, Europe, the UK, and Canada.  Seattle's SunBreak wrote, "His is a beautiful voice which he used with nuanced musicianship and fine technique to give every song its due in meaning and emotion. Pacific MusicWorks wrote that, "James has a large and compelling presence and voice, and his spoken words were as communicative as the ones he sang." He currently lives and works in NYC.