Mon, Jul 22, 2019
Career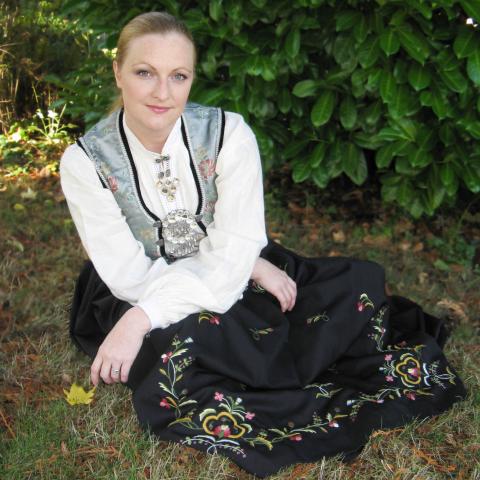 What does a career in music look like? That's a question that young singers (and accomplished ones!) are often asked, usually with a tone of disbelief that such a thing is possible. Not only is a career in music possible, these careers take an exciting variety of forms! Executive Director Margaret Felice recently heard from Laura Loge about how she took her passion for Norwegian heritage, language, and culture to become a leader in the Nordic repertoire today. This is just one example of finding your niche – after reading, feel free to share yours in the comments!
Although Norwegian is my heritage on my Father's side, it wasn't spoken much in our home. I began studying Norwegian in High School by attending a summer camp in Minnesota and was able to count it toward my HS language requirement. I then attended St. Olaf College where I studied voice and Norwegian and eventually ended up with a BM Vocal Performance. However, most of my non-music requirements were filled with Norwegian classes, from literature to history, to language (obviously).
I spent a summer at the Olso International Summer School where I took classes on the history of the Vikings, Viking art as well as Norwegian language and art history. That summer I also took voice lessons from Anne Brown (the first Bess from Porgy and Bess) who had immigrated to Norway many years prior. In college I completed all the required coursework to receive a Norwegian degree. However, since my music degree was Bachelors of Music, and I opted to take a pottery class instead of a science class, I did not get a diploma in Norwegian because it was Bachelor of Arts degree. In retrospect, I probably should have, but I really enjoyed that pottery class!
After college, with the help of a generous scholarship by one of the most influential Norwegian music and Grieg historians, I spent a year studying Nordic song and chamber music at the University of Stavanger in Norway. While there I shared an apartment with a Norwegian cousin and spent most of my free time with her family. Her mother is my "Norwegian mother" and I was taken in as one of the cousins.
What was particularly interesting and useful with my family there is that they insisted on speaking not just Norwegian, but the specific dialect they use. This helped develop an understanding of the flexibility and fluidity of the Norwegian language and has been infinitely helpful as I come across Norwegian songs in various dialects -- one in particular, Grieg's Op. 67, Haugtussa which is in the exact dialect my relatives (and ancestors) speak.
Of course I studied other languages (French in college and Italian in Italy for a year at a language school, for example) and still perform frequently in the "traditional" opera and oratorio, but the last few years my focus and work has shifted much more in the direction of Nordic repertoire. In my proselytizing I have become an educator without following a typical path into a University or teaching a private studio. Instead, my translations, IPA, spoken texts and a guide to Norwegian diction have been published as part of Midnight Sun, a three volume compilation of Nordic Song edited by Mimmi Fulmer of the University of Wisconsin Madison.
I present workshops on the same topic to young singers, usually in conjunction with concerts of Nordic song. I also believe my role as educator includes educating the general, music-loving public on this amazing and under-represented repertoire, and musicians who wouldn't even think to explore the repertoire or wouldn't know where to start.
A few years ago I took over the role of Artistic Director of the Mostly Nordic Chamber Music Series at the Nordic Museum in Seattle, WA. It's an exciting job and has opened me up even more to the world of Nordic chamber music, which conveniently overlaps often with vocal music. Part of that position allows me to try to integrate more collaboration between singers and the mostly instrumental focused world of chamber music.
As if that wasn't keeping me busy enough, several years ago I also started the Northwest Edvard Grieg Society (NWEGS), a non-profit with focus on the states of
Washington, Oregon, Idaho and Montana. We, obviously, are spreading our love for Norway's greatest composer! This happened because I had been involved in the International Edvard Grieg Society as well as the Edvard Grieg Society of America (of which I am now currently a board member) through various conferences, workshops, and competitions. They encouraged me to start a regional society and offered support to get things rolling.
At the same time a colleague from Norway proposed a project I couldn't say "no" to --The Complete Songs of Edvard Grieg: 180 songs in seven concerts over three years in two cities with two singers and one pianist. Our fifth concert is in just a few weeks. The project has felt massive at times, but it has truly opened my eyes to the genius of Grieg, how amazingly he captures the essence of texts and how his sound changes depending on the language he is setting. As part of this project I'm singing half the songs, translating all of them and producing the concerts in collaboration with local venues in Bellevue, WA and Portland, OR.
Through NWEGS I truly feel like an educator and have plans in the future to bring chamber music by Grieg through more rural parts of our region, mounting a full concert
of the incidental music from Peer Gynt in collaboration with a chorus and orchestra (and maybe more!) in Seattle and more! Part of our mission also includes supporting local musicians as well as composers who write music inspired by Grieg. One our board members, Steven Luksan, is a composer who writes beautiful songs in Norwegian (and other languages too) and we try to highlight his works whenever we can in honor of Grieg and how he supported his fellow composers. We also sponsor visiting artists from Norway for concerts in our region.
At this point in my career I can truly say that most of my work is Nordic related, whether as a performer or producer. I find both performing and producing to equally fulfilling and educational for myself and my audiences. Had I not started studying Norwegian and followed through in college and Norway, I'm not sure where my niche in our business would be been. The Nordic music bubble in the US is pretty small and I'm happy to know and get to work with most of those who have focused on this music. Though small and spread out across the US, it's a warm and supportive group who are all equally excited about this music.