Mon, Mar 16, 2020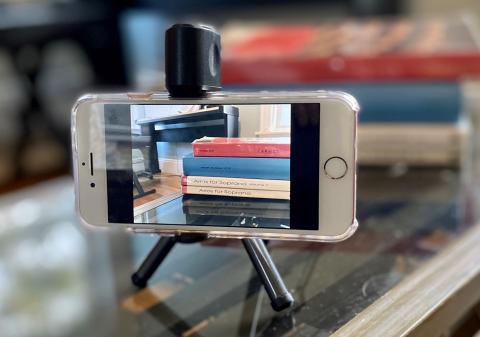 Thanks to singer and teacher Ellen Allen for sharing her best practices for teaching online lessons! - ed.
In the wake of the COVID-19 pandemic, there has naturally been a lot of discussion about the impact of social distancing on the career of the free-lance artist and voice teacher.  Many teachers are suspending in-person lessons and considering online lessons for the first time. Thankfully, we've got some really awesome people in the voice-teaching community who have graciously volunteered their time and resources these past few days to help their fellow teachers navigate the unfamiliar territory of online lessons so that we all, you know, don't go bankrupt.  Despite all these resources, however, I still see a lot of objections. "Online lessons are not as effective." "I don't know how to adapt my teaching style." "My students don't see the value in online lessons." "Won't I have to charge less if I'm new at this?"
Here's the thing though: online lessons absolutely do work.  I've been teaching weekly online lessons to both young children and teenagers for the past five years, and although you have to approach things a little differently, they can be just as effective as in-person lessons with proper adjustments and preparation.  
Why Teach Online?  Why Not Just Postpone Lessons?
Well, aside from the obvious fact that postponing lessons will hurt your bottom line, it also leaves your students in a place of uncertainty.  We're all trying to maintain some sense of normalcy right now, and for some students, a voice lesson might be exactly what they need to do just that.  Continuing to hold regular lessons with your students keeps music in their lives and money in your wallet.
Online lessons are also a great opportunity to develop even keener listening/observation skills as a teacher.  You will literally be seeing your students differently, which may heighten things about their singing you've never noticed before.
But I Don't Know How to Teach Online.
But you know how to teach a voice lesson, right?
You're the voice teacher.  You're qualified and experienced.  A change in medium does not diminish your expertise.  If you can help a student who comes to your studio in person, you absolutely have something to offer in a virtual lesson as well.  
Keep your rates the same.  You still deserve to be paid for your time and your teaching, even if you are adjusting to a new format.
Yes, you will have to think outside the box a bit.  The first few online lessons may be a bit bumpy. But you'll work out the kinks sooner than you think, and you'll become an even more creative teacher through the process.
My Students Don't Like the Idea.
Many students will initially see online lessons as a lesser experience than in-person lessons.  It's your job to show them this isn't true! Be up front with them about how it will be different, but not less effective.  Present it as a unique learning opportunity in which they can develop greater self-assessment skills, practice performing, take more ownership of the process, and work more in-depth on smaller chunks of music.  The slower pace will perhaps even allow them to absorb the material more thoroughly.
Okay, I'm Sold.  How Do I Start?
First, get clear on your vision for these lessons.  How do you want them to look? What will the format be?  After you figure that out, communicate it to your students as clearly as possible.  Remember, many - if not all - of them are also new to this, so facilitate as much of the process for them as you can.
Things you should consider include:
Your platform.  I like Zoom the best, because it is free, has lots of useful features, and tends to be the least glitchy.  Some folks prefer Skype, FaceTime, or Google Hangouts.

How your and the students' set-ups will look on camera.  Make sure you have good lighting and enough room in your space for different angles to the camera, if necessary.

How the student will warm up and work rep.  Will you use tracks? Will they play their warm-ups themselves?  This will largely depend on your students' skill/experience levels, and what kind of rep they are singing.

If you're using tracks, will you make them yourself, or find them elsewhere?  Either way, you need to find them in advance and give them to the student, because...

Tracks should be played on the student's end, from an additional device.  If you play them on your end, there will be syncing issues due to the lag time.  If your student plays them from the same device they're using for the call, there will be feedback.

Tools your student will need on their end (besides the obvious sheet music, music stand, pencil, etc.).  A keyboard? Metronome? Technical tools like straws or elastic bands? Think of what you use in the studio, and let your student know how/where they can get these tools in advance of their lesson.
I've Been Told I Need Fancy Techy Tools.  Is That True?
Mostly, no.  You should be able to conduct an effective online lesson with just your device and a good Internet connection.  Some people prefer to use earbuds or headphones while on the call, but that's not always necessary. You do not need a fancy microphone or lighting, unless you're really into that stuff and/or think you want to make online lessons a prominent feature of your studio.  If that sounds like you, just do your research on the equipment before purchasing anything.
Any Other Pointers?
The pace of an online lesson will be slower.  Literally. Lag time is inherent to all online meeting platforms.  But! This is not a drawback. It is an opportunity to work more in-depth on smaller chunks of music, really dive deep into a new technical concept, or have a Q-and-A session with your student.

Consider stopping the student less and listening to longer sections of music.  Take notes while they sing, and then work through each note sequentially after they're done.

Come up with some kind of "stop singing" hand signal, because it's hard for the student to hear you speak while they're singing.

Some platforms allow you to record the lesson, which can be even more helpful than just an audio recording, because the student can actually SEE themselves in the replay.

Technology glitches will happen.  If you just accept that and give the student a heads up at the outset, you will feel a lot more relaxed and in control.
Like with many other things, online lessons are a learn-as-you-go process.  It takes some practice. Keep your vision/mission statement/guiding principles in mind, and you will be able to provide your students with the same quality voice education that you would in person, no matter what happens.
Like this post? Subscribe to the BSR blog!
---
Ellen Allen is a Boston-based soprano, voice teacher, and holistic wellness coach.  Specializing in oratorio, concert, and choral work, she has appeared as a soloist with several Boston-area ensembles, including Triad: Boston's Choral Collective, MetroWest Choral Artists, Calliope, and the MIT Women's Chorale.  She was also the soprano soloist at the 2019 ACDA Intercollegiate Choral Festival, where she performed BWV 196 and selections from Haydn's Lord Nelson Mass.
Ellen maintains a full-time private teaching studio of voice students ages ten and up.  Her students study both classical and musical theater technique. In her teaching, Ellen combines her skill as a vocal technician with her other discipline, holistic health, to create a mind-body approach to singing and performing informed by each student's particular needs.  Her students have been finalists at the NATS Boston Student Auditions, earned acceptance to college music programs, participated in the Massachusetts Northeast District and All-State Festivals, and landed roles in their school and community theater productions. She is a member of NATS Boston, and also the co-founder and music director of Rising Stars Productions, a music and theater education company for youth based in Reading, MA.
In her holistic wellness coaching practice, Ellen helps busy working professionals transform their lives from tired, stressed, and over-sugared to energized, empowered, and well-nourished, helping them toward wellness and balance in all areas of their lives.
You can learn more about Ellen's studio and music-directing at ellenallensoprano.com and rising-stars-productions.com.