Fri, Dec 4, 2020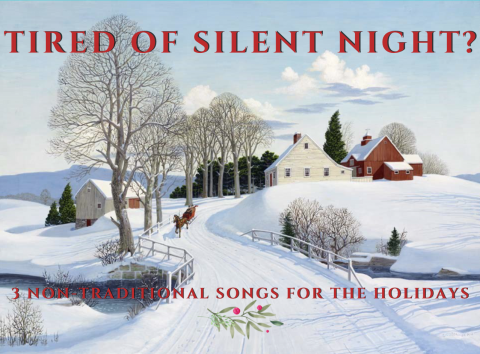 by Kristen Buabin, DEI Associate for BSR
Are you tired of singing the same traditional carols year after year? Here are three non-traditional carols to add to your list!
La nana, balada al Niño Jesús
(A La Nanita Nana)
Performed by Colombian-American Soprano Victoria Sotero, Beau Bledsoe (guitar), and Trilla Ray-Carter (Cello)
A La Nanita Nana is a traditional Spanish Christmas carol attributed to both José Ramón Gomis of Spain and Segundo Cueva Celi of Ecuador. Gomis' 1904 version is kept in the National Library of Spain. The song's beautiful melody and simple chord structure make it a popular choice for choral arrangements.
Most recently, Mexican pop singer Belinda and The Cheetah Girls recorded a shortened version that topped charts worldwide.
Performed by Belinda, Adrienne Bailon, Raven-Symoné, Kiely Williams, and Sabrina Bryan
The Huron Carol
Performed by Heather Dale
The Huron Carol was written around 1642 by missionary Jean de Brébeuf near present day Midland, Ontario, Canada. He spent his time at the Sainte-Marie among the Hurons learning the Wyandot language and translating Biblical texts. The Huron Carol is set to the tune of French folk song "Une jeune Pucelle" The original text is set in Wyandot and has been translated to English and French.
Betelehemu
Performed by the Morehouse College Glee Club
Nigerian Percussionist and composer Via Olatunji came to study at Morehouse College1950. During his studies he collaborated with choral director Wendell P. Whalum on this Yoruba Christmas song. The song was sung by the Morehouse College Glee Club for almost 40 years before it was published in 1992. The percussion instruments featured: conga, bongo, and tambourine, are descendants of traditional West African instruments. This piece is the most popular Yoruban song performed outside of West Africa.
Is your favorite non-traditional Christmas carol missing from this list? Feel free to share your favorite Christmas carols with me at kbuabin@bostonsingersresource.org.