Wed, May 13, 2020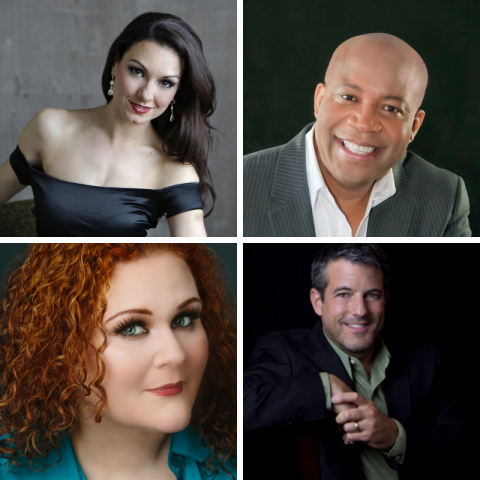 We asked four local professional singers how they have been filling their days with the arts world - and the rest of the world - on pause. We are so grateful to Sandra Piques Eddy, Barbara Quintiliani, Matthew DiBattista and Ron Williams for sharing their experience and wisdom. We gave each a chance to include a charity of their choice, which you'll find at the end of their bio. 
Sandra Piques Eddy    
For the last six weeks I've been busy homeschooling my 10-year-old daughter, I've been fortunate enough to coach a few singers from Longy to make up for the canceled master class that was originally scheduled in March.    
Among other things, I've decided to take this unexpected down time to get back to basics and revisit the Vaccai and practice piano in order to be a better teacher and musician.  I don't know if my next gig, which is in England, will be cancelled but I'd be more surprised if it doesn't.   This is a three and a half month contract starting in August.   
So I'm trying to get a plan in action to help support my family.   I haven't been completely public about this, but my husband has Parkinson's disease and we are learning how to navigate life with this new normal.  In a strange way, this time has been a blessing for us to have him work from home.   This way he can take breaks as needed.    We are also moving into my mother's house in the summer to help her with expenses as she faces some hardships.   
Like many of you reading this, there are many transitions on our horizon.  We are trying to face them with grace, an open mind and a bit of humor too.   
Bio: Sandra Piques Eddy, praised for her "dark sensuous mezzo and charming stage presence" (Opera Magazine), recently filled her calendar with role debuts; Paula in "Florencia en al Amazonas" with Pittsburgh Opera, Suzuki in "Madama Butterfly" with Inland Northwest Opera, Mistress Revels in "Prince of Players" with Florentine Opera and  La Badessa in "Suor Angelica" at The Metropolitan Opera. With over 100 performances at the Metropolitan Opera, Sandra was awarded Boston Conservatory's Distinguished Alumni award in 2017.  Ms Eddy is proud to be a visiting artist at the Longy School of Music for the last three years.   Website: sandrapiqueseddy.com
Barbara Quintiliani    
I think like most everyone else, I am trying to navigate waters that none of us has ever traversed before now. There is a great deal of fear, uncertainty, frustration, and grief as engagements are being either rescheduled or canceled one after another. As easy as it would be to hide under a pile of a few great books and bake until I drop...I have found it a source of comfort and strength to continue my regular schedule as far as it is possible. 
If there is one thing I have learned is that we singers are high level athletes and it is much easier to stay in good vocal shape than it is to get back into shape after a long break. I have continued teaching my wonderful students via some really amazing internet technology. Seeing their faces, hearing their voices, and having the opportunity to talk with them about what they are all going through and how they are handling it has been really helpful and  uplifting. Every single one of them is a real source of inspiration to me and I am truly grateful to them for being so wonderful. 
One of the most difficult parts of this situation for me has been the isolation. I am an extrovert through and through. I really miss people! I realize that I have really taken some things for granted! (The simple pleasure of going out for a coffee or having lunch with a friend or taking in a movie date with my husband or my weekly visit to the library for a new book...I have certainly been taught a lesson about appreciating the little things WAY more than I have in the past). 
In all seriousness, I have a number of family and friends who are fighting this pandemic on the front lines as healthcare professionals and first responders and these are hardly hardships. I hope that we are all able to process how big an impact our smallest actions can have on one another when we make it to the other side of this thing.    
Bio: Hi! I am Barbara Quintiliani, a soprano origianlly from Quincy, MA. After completing my B.A.  and A.D. at New England Conservatory in Boston, MA, I went on to participate in the Young Artists Studios of the Santa Fe Opera, the Houston Grand Opera, and The Washington National Opera. I have been lucky enough to travel the world singing opera, concert, and recital. Website: barbaraquintiliani.com    Shoutout: Rosie's Place
Matthew DiBattista    
Apparently, it's possible to teach an old dog new tricks!  In the absence of live, one-on-one teaching, I've jumped on the online teaching bandwagon.  I can see how this could be a valuable supplement to my teaching in the future. Other than preparing for upcoming roles that may or may not happen, I'm taking advantage of time to do projects on my 1830's home and take rides on the motorcycle when weather permits.    
Bio: Described as "brilliant" by Opera News, tenor Matthew DiBattista, is continually in demand on some of the world's most prestigious stages having performed opera and concert works throughout the United States and Europe. Known for an exceptionally varied repertoire, Mr. DiBattista has performed over 60 different roles to date spanning the entire operatic repertoire. He has been on the roster of the Metropolitan Opera and performed with Lyric Opera of Chicago, the Boston Symphony Orchestra, Glimmerglass Opera, Santa Fe Opera, Florida Grand Opera, Odyssey Opera, New Orleans Opera, Palm Beach Opera, Opera Omaha, Tulsa Opera, Opera Boston, Virginia Opera, Opera Colorado, Boston Symphony and Pops, Michigan Opera Theatre, Boston Lyric Opera, and has appeared seven consecutive seasons as principle artist with Opera Theatre of Saint Louis. Mr. DiBattista can be heard on several recording labels and maintains a private voice studio in Medford, MA. Website: matthewdibattista.com Shoutout: Artist Relief Tree
Ron Williams    
Wow! Talking about going from 60 miles per hour to a screeching halt...we were just a day away from Boston Lyric Opera opening of Norma when life changed abruptly. We were warned that we would not have a final dress rehearsal audience, (a wise choice under the circumstances) and that classical radio station WCRB had arranged to record and live-stream the rehearsal/performance.
I also woke to news that my Opera Appreciation lectures for several community Councils on Aging were suspended. I broached the idea of online vocal instruction to several students in need of attention as end of semester recitals and juries were imminent but had no experience in online teaching and was not even sure if technology could support what was needed to truly be effective, although I have several colleagues using this approach. 
Well, some weeks later almost 20 students are online for lessons and it appears to be working. The amount of preparation on my part is daunting as I have to make sure the student has a good accompaniment, either by CD or MP3. I have spent a great deal of time at the piano creating them. Not every student embraced the change as many need the input of head conducting (I did not know I did so much), or even the student watching my hands on the keyboard.
As for my own musical growth I've seen this as a chance to prepare and work on several new pieces that have been on that back burner, sometimes for years, because there just wasn't time left in the day for anything else with schedule I was keeping. I am happy to say that several cancelled spring engagements have found venues and dates for future performances. I never imagined that I would be so seriously and professionally engaged at my august age.
I have also looked inwardly to my needs that support this musical fixation, including long daily hikes with earphones in, listening especially for new recital repertoire.  I am also on the road biking again after a pretty serious accident last October.
One extremely ironic dichotomy is the more that 30-year career in healthcare working as a radiologic technologist, although the last few years were spent in management. I never gave up my license and feel a strong need to help as a health professional anyway I can, wherever I can. My family threatened to tie me up until the thought passed, but God knows the need is there in this current environment!
Bio: Singer, lecturer and vocal teacher, Ron Williams is recognized nationwide for his artistry in the field of opera and oratorio, he continues to garner acclaim for his work onstage and in the concert hall. He has sung leading roles with several opera companies nationally, including San Francisco Spring Opera, Michigan Opera Theatre and Opera San Jose, where he performed in the world premiere of Alva Henderson's The Last Leaf. Ron made his European concert debut in Germany with the Düsseldorf Chamber Orchestra. His stage debut was in Saint Gallen, Switzerland and has performed extensively throughout the rest of the Europe.  An artist committed to works of 20th century American composers, he premiered Ned Rorem's song The Lake of Innisfree which was heard by audiences on WCRB. 
Website: RonSings.com Shoutout: No specific charity but a shout-out to all the medical personnel working on the front line of this virus.
---
BSR thanks these four singers for taking time to share! If you like what you read please subscribe to the blog. And if you know a classical singer who is experiencing financial hardship at this time please let then know about our Boston Singers' Relief Fund, providing emergency grants to classical singers with COVID-19 related cancellations.