Wed, Jun 27, 2018
auditions fashion gigs performance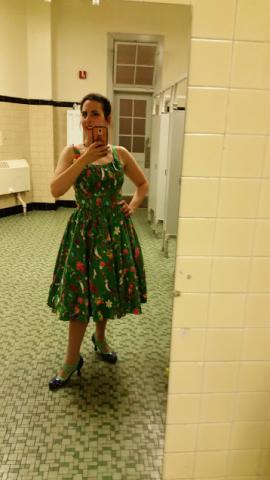 Soprano and BSR board member Stephanie Mann is featured today writing about bringing personal style into the audition room. You can learn more about Stephanie and all of our members at bostonsingersresource.org
When I was in Grad School, we were taught that there was a 'uniform' of sorts for auditions, at least for women; jewel toned or black wrap or similar-style dress that falls below the knee, modest heels, modest jewelry, glamour makeup and well-tamed hair. Mezzos could wear a pants-suit or black palazzo pants with a jewel-toned top but everything else was the same. This is a beautiful, timeless, elegant style...if it is ​you​. If it is not, then it is yet another box that we, as singers, are put into so that we can conform to a couple people's ideas of how a singer should present themselves.
When we are training, whether it's in a school or a YAP or the like, we are given instruction on what we should wear, how we should look, and what we should sing. We are shoved into this uniform and yet we are also told to show our personalities and authenticity in auditions. How can we do that when we are so bound into our little uniform of that jewel-toned dress and modest heels when we are really a Boho Goddess or Pin-Up Queen?
Within the last few years, I found myself wanting to break out of that uniform. It was not who I was as a person (I have -never- been considered 'conservative' in any aspect of my life) and I could not show who ​I​ was. I began wearing the clothes, shoes, and jewelry that I wanted to wear and I began to feel like I could really feel comfortable in my presentation and performance at these auditions. I never really kept track to see if I was hired more often, but I know I felt more confident going into and after the auditions.
Is it everyone's cup of tea? Maybe not. I've been told to wear more modest heels but my shoes are often a conversation-starter and I see people months later and get "You are the one with the amazing shoes!" I feel better about my self-image, knowing that I'm wearing clothes in styles and colors and patterns (yes! Patterns!) that I love.
Over the last couple of months, I have been hearing variations on the advice 'Be authentically yourself and don't apologize'. If that means wearing patterns and colors and styles that break the mold, how can being ourselves ever be truly wrong? There are singers online, specifically in the 'Shoperatic' Facebook group, who have begun to embrace the movement of 'Free the Knee' (wearing skirts or dresses that stop just above the knee), sopranos wearing pantsuits, and patterned pieces at auditions. However, I am still seeing jewel-toned, conservative, below-the-knee dresses listed as 'The Perfect Audition Dress'.
It is a start, but it is a scary thing to break out of a box that we are told we must fit in if we want to get hired. Yet, how can we truly express our individuality and uniqueness while boxed in? We cannot please everyone, but we need to please ourselves, first and foremost. If wearing a Tiki dress does that? Go for it!
This rebellion against the more conservative uniform may not be to everyone's liking but I, personally, am enjoying what I am seeing. I am seeing female singers rocking short hair and alternatively-colored hair when before we were told we must have long, traditionally-colored hair. I am seeing 'pop of color' shoes against that jewel-toned dress and I am seeing singers experimenting with breaking out of that 'audition uniform' box. Some seem to be testing the waters with wearing a funky statement necklace or neon shoes. Not everyone will be ready to go full-out pattern as I've done, and ​that is ok!​ Honestly, I still have a few of those jewel-toned/black dresses in my closet and have worn them to auditions if I have felt like it.
But when I sang my audition in my Tiki dress last night...I kind of felt like a rockstar.
[gallery ids="1743,1742,1741,1740" type="rectangular" orderby="rand"]
Soprano Stephanie Mann is an active performer of Opera and Musical Theatre in the Boston and surrounding areas.  Always one with a unique sense of style, she insisted on wearing only dresses until she was three years old. A native of Richmond, VA, she is a graduate of The Boston Conservatory with a Masters of Music in Voice/Opera Performance and of Brandeis University with a Bachelors of Arts in Theatre Arts. An active performer in New England and regionally, she has performed with such companies as Longwood Opera, Raylymor Opera, New England Opera Theatre, Greater Worcester Opera, Boston Opera Collaborative, Turtle Lane Playhouse, Riverside Theatreworks, Asheville Lyric Opera, and The Company Theatre. Some of her credits include Alexandra in 'Regina', Amy in 'Little Women' (Opera), Donna Anna in 'Don Giovanni', Lady Thiang in 'The King and I', First Lady, Second Lady, Papagena in 'Die Zauberflöte', Lady Grace Manley-Prowe in 'Something's Afoot', Musetta in 'La Bohème', Fiordiligi in 'Così fan tutte', Maria in 'The Sound of Music' (Wakefield Repertory Theatre), Mrs. Gibbs in Rorem's opera 'Our Town', Elettra in 'Idomeneo', Abigail Adams in '1776', Winifred Banks in 'Mary Poppins', Miss Wells in 'Dracula', . With The Company Theatre, she has been thrilled to be in the Ensemble of 'Les Miserables', Abigail Adams in '1776', and Winifred Banks in 'Mary Poppins',Turtle/Large and Terrible Frog in 'A Year with Frog and Toad', Countess Ceprano in 'Rigoletto', Edith in 'The Pirates of Penzance', Signora Naccarelli in 'The Light in the Piazza', and Mary Sunshine in 'Chicago'. In addition to her performance work, she is a Board Member and Clerk with Boston Singers Resource and teaches voice lessons through Studio One at The Company Theatre in Norwell, MA.  www.StephanieMannSoprano.com